Me At Market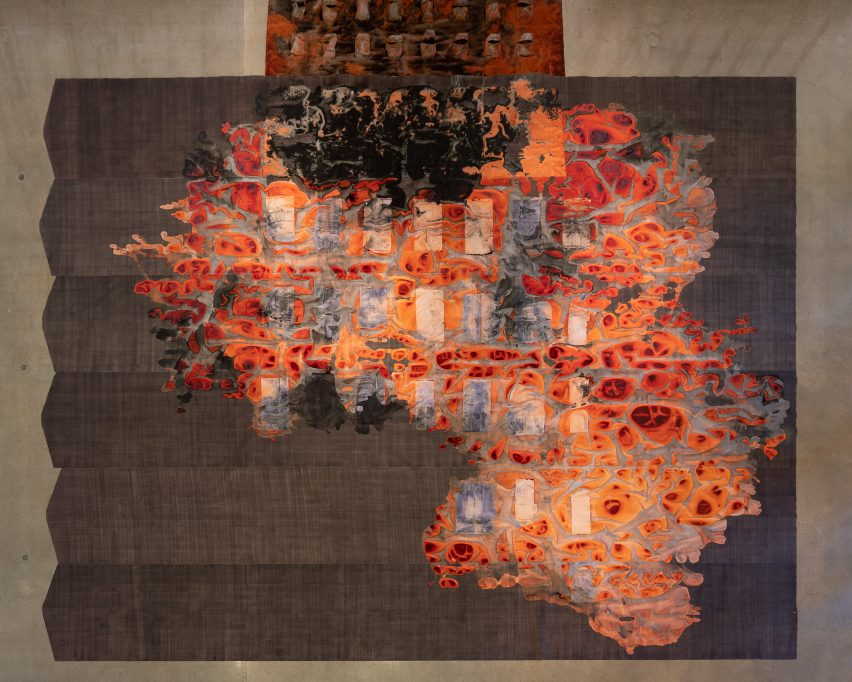 Carmen Argote: Me At Market
Carmen Argote's practice draws upon her immediate environment and the networks of labor and consumption that mark these spaces. She manifests these connections through site-specific sculpture, installation, and performance. Her choice of natural materials—cochineal, citrus fruit, avocados, wine, and coffee—directly reference histories of labor, violence, oppression, and colonialism through the visual language of abstraction.
Me At Market, a new commission for the Visual Arts Center, is a multi-part installation comprising a large linen textile and two works on paper. The pattern of the linen textile is drawn from the concrete pavers in the VAC's courtyard, referring to the gallery's specific architectural details, and attempts to disrupt the boundaries between inside and outside. The textile is punctuated by a series of dye pours made from cochineal and lemon juice, resulting in rectilinear marks that cascade down its surface and pool inside the pockets sewn onto it and onto the painting on the floor. Another work on paper, hung on the gallery's east wall, consists of dyes made from chestnuts and flecks of iron. Like the textile, this painting responds to the gallery's architecture and was made in the courtyard during Argote's residency.
In many ways, Argote's practice is an exercise in chance, an act of letting go. Gravity dictates the movements of the dyes in her work, and when they combine, new colors and forms emerge. The dyes commingle, react, and are transformed. Harnessing gravity as a material, Argote points to an essential element of our very existence—a force that keeps us, quite literally, grounded and connected to the earth. The earth, in turn, holds us, contains us, protects us, just as Argote's many linen pockets might.
Carmen Argote: Me At Market is organized by MacKenzie Stevens, director, with Kaila Schedeen, 2019-2020 curatorial fellow, Visual Arts Center. Special thanks to Astrid Runggaldier, assistant director, Mesoamerica Center, and Karla Roig Blay, intern, Mesoamerica Center.
This exhibition is generously funded by the Kaleta A. Doolin Foundation. Additional funding is provided by the Center for Latin American Visual Studies (CLAVIS) at The University of Texas at Austin.
Works in this Series