live/work 2008-2016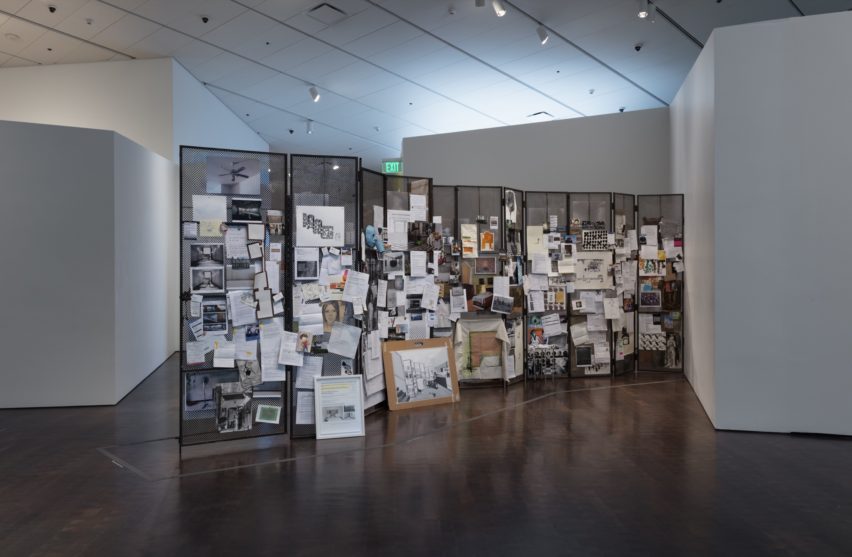 Live/Work is a zigzagging screen-like structure that I have used to divide my living space from my work space during the last 8 years.
The accumulated arrangements of photos and papers on both sides of the structure surface are the mapping of my identity. On it, you can see the organic circulation of negotiations between cultures and languages, institutions and expectations and customs layering on top of one another. I have often felt that for me, as a Latina artist, there has been no road map within the institution that defines artistic success. This installation is the visual expression of these navigations, it is a private object that maps out family dynamics in parallel to life as an artist. It reflects the act of inhabiting a self made architecture that we as Latinas so often create out of a need to do so with what we have within our reach.
I welded the steel folding screen as a functional component in order to keep my cats out of the studio and my living space separate from my studio. It was made with the knowledge that there is no permanent place to call home. The surface of the structure is treated with metal bluing and gives it a brownish steel surface. The artwork is comprised of the folding structure, photographs and other paper materials of varying sizes attached onto its perforated steel surface with magnets.
Live/Work will be shown for the first time at the Denver Art Museum, as part of the Mi Tierra Exhibition.
The work is a lived in archive. All of the works on paper, objects, and photographs  that are on the screen will remain there. I have made a second screen and will live with it and see how this new one develops. I envision one day, looking at the screens together and seeing years all at once.