Las Cargadas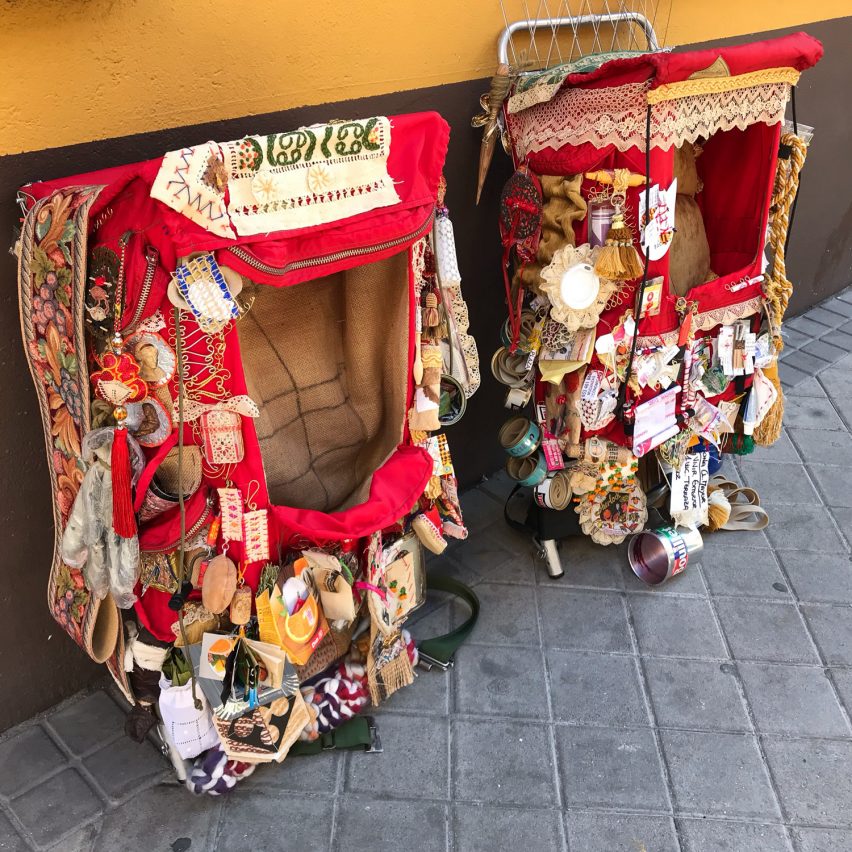 Las Cargadas is a title that points to the accumulation of the objects on the backpacks, to the weight of our shared histories and traumas, to our visual languages, interpretations and transformations and to our accumulation of memories growing out of the process of walking the streets of Madrid for three weeks. The project concluded today with my mother leaving back to Los Angeles.
About the work:
The work began situated within the idea of a dialogue as this work was made in the context of a curated section for ARCOMadrid 2019. In looking at Ofelia Rodriguez's works (the artist my work was to be in dialogue with), direct experience of a place seemed to me to be the catalyst for both her work and for our work in conversation.
It became essential that the work, in order to really dialogue, needed to grow from an actual conversation between myself and the city. I wanted this experience to be intergenerational in nature, so I invited my mother to be my collaborator in a conversation with the city of Madrid. Neither of us had ever been to Europe, and both of us had formed notions of Madrid through the lens and constructions of our Mexican identity. My mother having been both born and raised in Mexico and my self born in Mexico and raised in Los Angeles.
De donde son? "Yo de Mexico, Y yo de Los Angeles"
The idea of beginning with two used red hiking backpacks came about as a response to Ofelia Rodriguez's work in terms of thinking about the power of objects to contain energies, associations and memories, depending on context. These were backpacks that has already traveled without us.
Rodriguez's use of bold shape and colors also resonated with me in terms of the backpack as a container, a backdrop and a frame for objects. Worn on our bodies, the used backpacks could activate the imagination both for my mother and I and for the people seeing us in the street. Instantly, we are exposed as travelers , backpackers, peregrinos, nomadic and ephemeral within the city. 
"Are you staying here?"
We put on the backpacks and began walking the city, conversing with each other and with Madrid. We would get coffee and save the napkins and sugars and lids to remember that experience, every street became part of the conversation and we collected everything from phone numbers to plastic candy wrappers that we found. Our search for materials for the work took us into all kinds of shops where we would look for objects that had a certain resonance with the experiences of our day. In the evening, we would return to our room and continue the conversation by transforming the objects into compositions that could be added onto the backpack structure. Every addition was an interpretation of an experience, a conversation between us and the streets and places we had visited. 
The rooms we were staying in were in different areas within Madrid. Starting in Alcorcón, we moved to Plaza de España near the grand via, then to Usera. We were able to understand the city through its public transit system and through the economic inequity between neighborhoods.
In walking the city, my mother and I had different connections with the things we were seeing. For my mother, her upbringing in Mexico became a topic of conversation and stirred up her memories of her grade school days. Streets that looked similar and a shared colonial aesthetic in the architecture would be interpreted as, " this street looks like Guanajuato". The order of historical sequence was secondary to personal experience. I listened to both her connections and also connected my own memories to the city to Los Angeles, to ideas of diversity, to our own idea of mestizaje. My mother and I felt the weight of Spain and its influence upon our identity and history. The familiar became strange and gave way to the idea of transformations and reinterpretation of the things we were seeing and in the way we were understanding them.
The idea of influence is deep and complex in relation to Mexico. In seeing a religious tapestry for example, one cannot separate  the use of cochineal from its source in the Americas. This influence of course goes further than the conquista. It looks back at us when we look in the mirror and travels through our making with our hands. 
Manualidades/ Things made by hand have always been present in my family, both from my fathers side through my grandmother and from my mother. Ideas of what constitutes good taste or " buen gusto" have continuously looked to European interpretations in Mexico. With this work I wanted to privilege the transformations and reinterpretation of those aesthetics because they feel more connected to how both my mother and I build meaning. Inspired by the visual navigations of indigenous cultures around the aesthetics of Catholicism for example.
For my mother, much of what she learned came from her teachers in Mexico. Her teachers taught her how to weave lace (de bolillo) how to create fabric pleated textures, how to do certain stitches and weaves and crochet styles. Metal repujado, French wire-working, and paper crafts all have their place in Mexican culture for my mother. This visual language was handed down to me and simultaneously transformed once again through my practice and context. In experiencing Madrid, we could understand our approaches as  reinventions. We could understand our own histories in a connected but separate context viscerally and through the body.
Las Cargadas grows from the process of collaborative walking, collecting, conversing, and making.The sculptures on our bodies opened up points of conversation with the people who encountered us and who we curious and asked us questions. With each encounter, we shared the work, our experiences, and the compositions that we've made from our experiences. Some people offered contributions to the project. Visually, we were situated somewhere between the people who sell and the people who buy. We could feel that we were not seen as most tourists from the lack of approach from vendors. Mostly, we were left to occupy a sort of gray area, often gaining stares and sometimes a conversation. We were afforded that space within Madrid and were grateful to be able to have a dialogue with the city in this way.
Works in this Series