Folding Structures (2017)
2017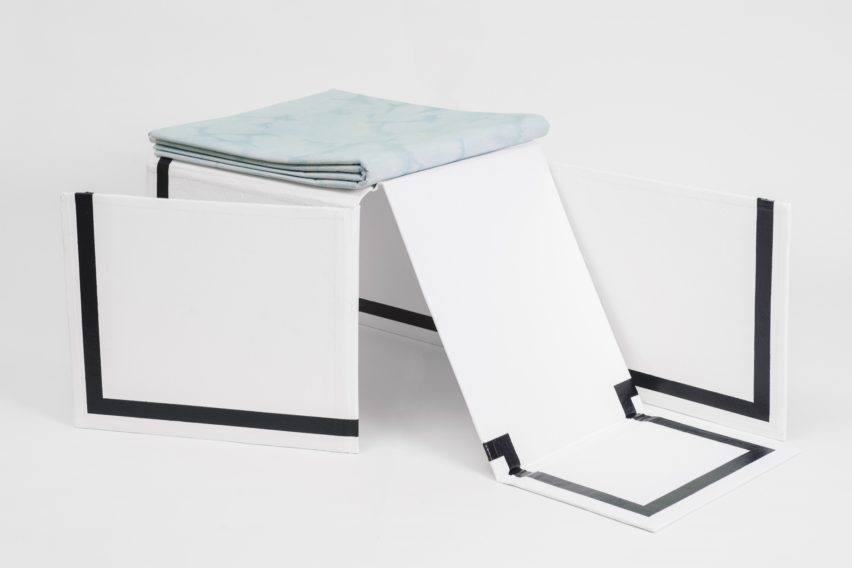 This series of folding structures grew from an earlier set of sculptures shown as part of Houses he wanted to build, 2015. The earlier set was destroyed by me. Made with a cardboard core, these earlier versions folded muslin fabric to the size of clothing in a drawer. The first series began in my Laundromat, where I was folding my clothes with a cardboard clothes folder and kept on seeing modernist architecture when the cardboard structure was not in use. I decided to lean into this reoccurring architecture, attributing this to my fascination with my father's architectural plans and drawings. I started to think about where my visual language came from and began to think about the act of folding as a sort of layering. I thought of generational layering and visual influence and how a fold can function as a representation of folded over memories and perspectives.
These larger folding structures grew out of the first set, to exist more as sculptural objects within themselves. These works were made as sculptural objects that adapt to their surroundings and interact with the spaces they are in. They are made to rest directly on the floor.
I think of these works as versions of my father's architectural drawings, folded over, and remade into my own version. Here I am the architect, taking the color and shapes of his drawings and remixing them into my own architectural models of sorts. The dark frame for example alludes to both the drawings, but it also alludes to how I have adapted the idea of perimeter in my work as part of my visual language. These also allude to the original folding structure template, but begin to converse with the idea of the repetition of minimalist forms. These works have a plexiglass core covered with paper mache which gives them a slightly touched feeling and the perchance of the hand.
I think of the act of folding as a layering of perspectives.