Folding Structures (2017)
2017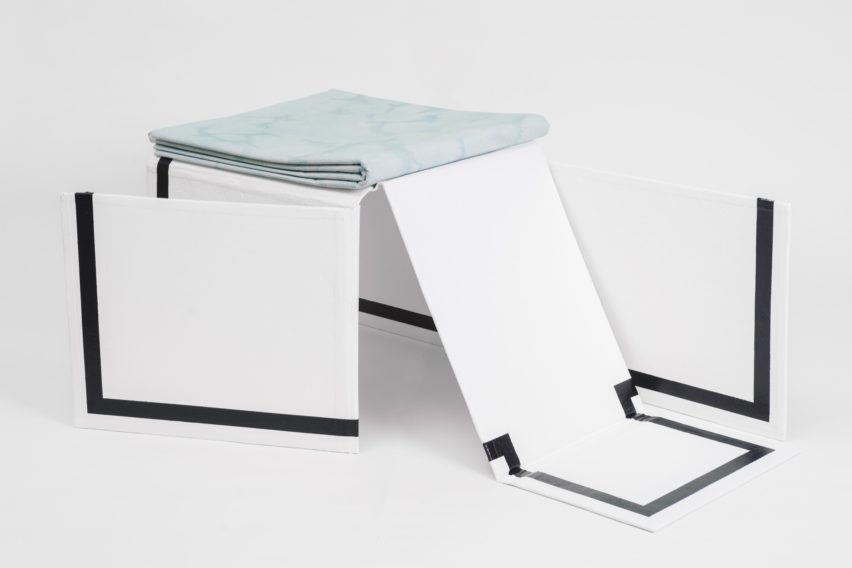 Carmen Argote's work explores memory and architecture from a personal and political perspective. Argote has created a new series Folding Structures 2016, five monochromatic floor sculptures that echo formal qualities found in both architectural plans and domestic structures used for folding laundry. These sculptures sit directly on the floor of the gallery and can be folded into various shapes and forms.
In Argote's Folding Structures, a personal narrative is added to the work. Each structure includes painted muslin, which the artist sees as a reference to the skin of a body. The muslin is also metonymic of class as manta is used to make clothes that transcend a class system: from worker's clothes to the lining of clothing worn by aristocracy. The colors have personal significance, referencing pools and landscapes of her father's architectural drawings, which are the relics of an immigrant's journey. Although Argote's father studied architecture in 1970s Mexico, he had to work as a delivery driver when he emigrated to the US. While he designed many buildings for his native Guadalajara, only one ever came to fruition.
Argote's work, while appearing Minimal in form and palette, has an abiding relationship with her family history as immigrants to the US from Mexico. Argote conjures this history through the layering of memory, experience, trauma, and nostalgia that is considered from a domestic site. This injection of the personal and domestic is characteristic of the layering of signs and meanings that I refer to as "feminine/alism", the elision of a Minimal format with a gendered, feminine experience.
-Kathy Battista