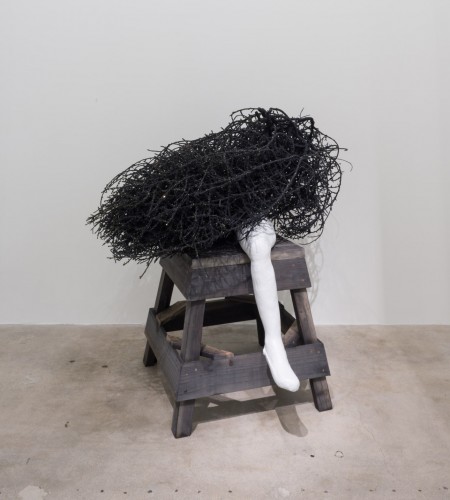 Mascara
2012
About the Piece
The reoccurrence of the tumbleweed in the Selig Zoo body of work  connects the past to the present by using the tumbleweed as a presence that was there, is here today, and will always be here. The tumbleweed references the idea of coming west to fulfill ones dreams, and of the persistence of that ideal throughout time. All the tumbleweeds used were found on the hills across from where  Selig Zoo/ Selig Studios once stood in Lincoln Heights, Los Angeles, CA.
In Mascara, the tumbleweed rolls down the hill into the set of a silent picture film. Glamourous and sparkling with gold glitter, the tumbleweed references the leading actress's mascara.
Material: tumbleweed, paint, flocking, glitter, wood
Dimensions: 54" x 32" x 25"